5 New HR Compliance Hurdles in California
and How to Overcome
Complimentary Live Webinar: Thursday, August 16, 2018
11:00 AM - 12:00 PM Pacific

---
Navigating the HR compliance maze in California can be complicated, even for the most seasoned HR pro. With many new complex regulations coming into play and changes to existing regulations happening regularly, staying in compliance seems to be more difficult—and perhaps more costly—than ever before. In 2018 alone, employers in California have been faced with new legal requirements including The Fair Chance Act, which extends "ban the box" initiatives to most private employers, the Salary Privacy law that prohibit employers from asking an applicant's salary history, the Parent Leave Act that extends parental leave rights to employees in organization with 20-49 employees, expanded sexual harassment training requirements, and the state's Immigrant Worker Protection Act.
Join us for a complimentary live webinar on Thursday, August 16th to find out more about the five compliance hurdles every HR professional in California must be aware of and what action items you need to address right now to stay ahead of your compliance obligations and avoid costly errors in California.
We're covering:
Paid sick, Parental & Family Leave: Learn how to address federal, state, and local laws around leave management and prevent abuse.
Recruiting and hiring: Clarify what impact ban the box, pay equity laws, ADA requirements, salary inquiries, and more will have on your talent acquisition efforts.
Sexual Harassment: Protect your workforce and reduce your company's legal liability with a focus on prevention, training and reporting.
I-9s and Immigration Enforcement: Access strategies for complying with state law in the face of stepped-up federal enforcement
Marijuana: Understand the complex maze of rights and laws impacting legal use and workplace drug policies
Sponsored by: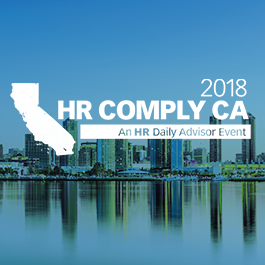 HR Comply California 2018
October 17-19 | San Diego, CA

HR Comply California (formerly the California Employment Law Update, or CELU) is the state's leading HR law conference. The superior content, delivered by labor and employment attorneys, will help you get ahead of workplace policy updates with a one-stop, comprehensive overview of breaking state-specific and federal updates and proven best practices for complying with California's strict requirements.


Free Infographic: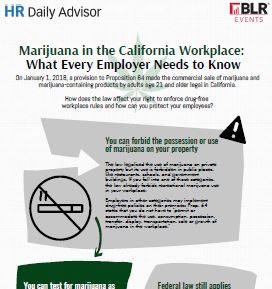 Marijuana in the California Workplace
What Every Employer Needs to Know
Earlier this year, Proposition 64 made the commercial sale of marijuana and marijuana-containing products by adults age 21 and older legal in the state of California. Download this FREE infographic and learn how the law affects an employer's right to enforce drug-free workplace and how you can protect your employees and workplace.

Check out this session highlight from HR Comply California 2018:
Marijuana in the Workplace: Your Latest Legal Rights and Limitations in Policy Development and Enforcement under California Law
Presented by: Danielle Moore, Esq., Fisher Phillips LLP


Presented by: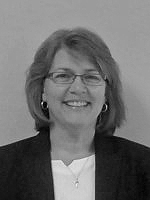 Joan Farrell, J.D.
Senior Legal Editor for Human Resources and Employment – BLR
Joan S. Farrell, JD, is a Senior Legal Editor for BLR's human resources and employment law publications. Ms. Farrell writes extensively on the topics of workplace discrimination, unlawful harassment, retaliation, and reasonable accommodation. She is the editor of the ADA compliance manual—ADA Compliance: Practical Solutions for HR. Before coming to BLR, Ms. Farrell worked as in-house counsel for a multistate employer where she represented management in administrative matters and provided counseling on employment practices.

Register Now!
This page requires a Javascript-enabled browser.
Please enable Javascript, or install a browser that supports it, then try again.